As any casual reader of chasing my Bees can tell, we are a seriously bookish family. When my lovely friends at the Clever Girls Collective had an opportunity to review a middle-grade adventure book series, I hopped right on board.
Greenleaf Book Group has published two
Travels with Gannon & Wyatt
books so far: an adventure in Botswana, and one in the Great Bear Rainforest. In January, 2014, the latest book, featuring real-life twins, will be published- Gannon & Wyatt in Egypt!
All three of my Bees enjoyed the Travels books. My 9-year old read them outloud to his 4-year old sister, and their middle sister, a 7-year old emerging reader, read all three books on her own. I asked my son, a fourth-grader, to write his own review of the Gannon & Wyatt series. Like a true word nerd, he jumped at the chance to evangelize for his new favorite books. (He's a certified genius child, but he's crap with spelling. I'm typing his report exactly as he wrote it. Because I think it's
adorable
. I'm such a weird mom.)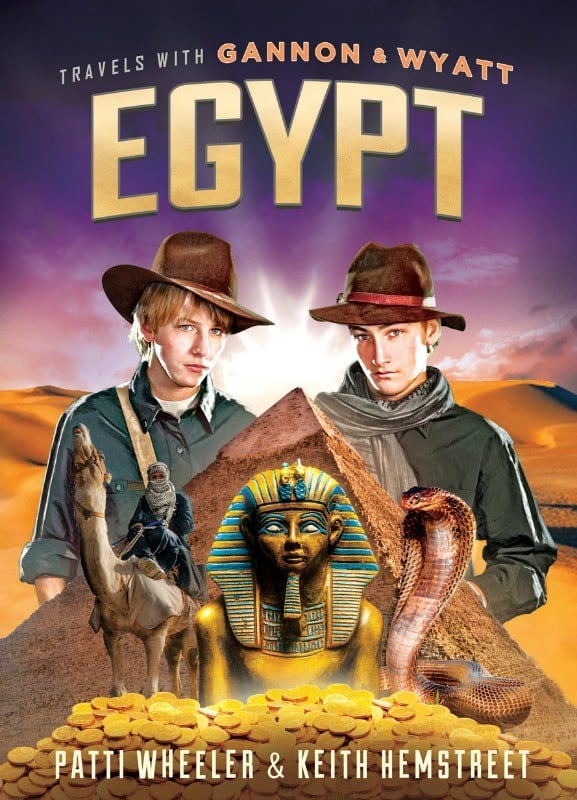 Travels with Gannon & Wyatt, by The Boy
Gannon and Wyatt: Egypt is an adventure about two boys who travel to Egipt. While there there, they and two other kids go to search for Queen Cleopatra's tomb. While only three got to see it.
Overall, the Adventures with Gannon and Wyatt series is a thrilling adventure! My personal thought is that Patti Wheeler and Keith Hemstreet should make more books. I also hope that the REAL Gannon and Wyatt also keep going on adventures!! Last but not least:
THE WORLD IS OUR CLASSROOM!!!
So, we're working on his essay skills.
But, it was clear from my kids' enthusiasm (and the resulting conversations about when
we
are going to the rainforest), the Travels series is a hit.
Want to learn more? Check out Gannon & Wyatt's Facebook page- they're giving away three Kindle Fires this month!
Also!
In conjunction with the Clever Girls and Greenleaf Books, I get to give away a set of all three Travels books! Including the not-yet-published Egypt adventure! Just visit chasing my Bees on Facebook and leave a comment about your dream adventure to win! I'll choose a winner (based on a random number draw) on November 25.
I was selected for this opportunity as a member of Clever Girls Collective and the content and opinions expressed here are all my own.